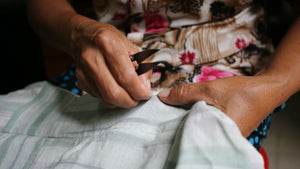 PRESERVING HERITAGE, CELEBRATING CRAFTSMANSHIP
MEET SOME OF THE WONDERFUL HUMANS BEHIND OUR PRODUCTS

"Through these weaves my story unfolds,
In my heritage this legacy lies,
By these hands, I am made."
Shop Some Of Nelly's Craft
These bags and clutches are handwoven out of cargo strips, by indigenous women of the Kenyah and Penan tribes in Sarawak, Borneo.
We named this collection the Nelly collection in admiration for Nelly, one of the first weavers we met. 
A STORY OF UNSTOPPABLE DEDICATION
Uncle Ng, as he is fondly known, is aged 62 and has 3 children. He is a self-taught artisan who learned to weave using books and magazines, and has been making bamboo rattan crafts for the last 30 years.

Uncle Ng is one of the finest rattan weavers in Peninsular Malaysia. His skills have been helping to support his family even though he has been unable to walk due to childhood polio since the age of 3. Earth Heir has been working with Uncle Ng for more than five years and we are privileged to work with artisans like Uncle Ng.
MADE51 is a global brand of artisanal products, crafted by refugees, brought to life by UNHCR, the UN Refugee Agency.
As an official MADE51 partner, Earth Heir collaborates directly with refugee artisans to develop and produce a unique line within the MADE51 jewellery collection. This jewellery collection is produced by refugee artisans from Syria, Afghanistan, Iran and Myanmar living in Malaysia. Together, we can introduce new, authentic products and techniques to the marketplace, while giving refugees the opportunity to earn income, strengthen their resilience and restore their sense of self-determination.
Each MADE51 product is a tangible symbol of hope - offering refugees a chance to earn an income, preserve their culture and contribute to their host communities.
To see the whole collection, visit www.made51.org.
GET TO KNOW: THE MAH MERI TRIBE
We work with the Mah Meri tribe to celebrate their traditional pandanus leaf weaving. The Mah Meri (Mah meaning people and Meri meaning forest) are one of 19 Orang Asli (indigenous) people groups of Peninsular Malaysia. Pandanus leaves are used in many rituals and crafts of the Mah Meri tribe. The leaves are processed into colorful strips and woven to create mats, hats, baskets, personal adornments and many other items. Women of the tribe use weaving as a way to support their families.
VIEW MAH MERI PRODUCTS
"THERE IS DEMAND, BUT THE SUPPLY IS GETTING LESS AND LESS. IT'S THE WORKERS, THE WEAVERS, THEY ARE A DYING BREED" - KAK JAH, TERENGGANU, MALAYSIA
We hope that through our work, and collaborations with organisations like the National Craft Institute in Malaysia (Institut Kraf Negara), younger folk would be keen in these art forms.