CELEBRATING BEAUTY AND IMPACT
Welcome! If you are looking for well-made 'Made in Malaysia' products that make a difference in the lives of marginalized communities, you're in the right place. At Earth Heir, our commitment to positive impact extends beyond craftsmanship. We now feature a diverse range of products from various social impact brands, each contributing to social change and empowerment.
Explore our curated collection to discover not only exquisite design and quality but also the transformative stories behind each item. Every purchase crafts a brighter future.
Thoughtful Design. Ethical Partnerships. Conscious Living.
What We Do
Earth Heir® is a destination for sustainable and socially responsible products which celebrate the diverse range of artisans, makers, and brands empowering positive change. Explore the finest 'Made in Malaysia' products. Proudly #MadeinMalaysia
Certifications & Memberships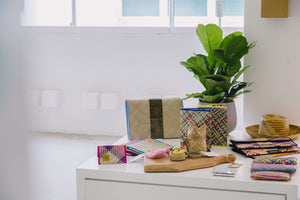 Explore Our Variety of Impactful Brands
Dolphin Ring
Inspired by the ocean and all it's beauty, this ring is named after a graceful aquatic mammal, the Dolphin. The curves of the ring reflect the shape of a dolphin jumping over the waters. As Dolphins are playful animals, we hope this ring brings joy and playfulness! This gold stainless steel ring is adjustable and feels dainty and light.
The Dolphin rings are dainty, pretty rings with hand-stitched patterns inspired by motifs reminiscent of Middle-Eastern art and architecture, to honour the heritage of refugees from Afghanistan, Palestine, Syria and Iran, and the remote highlands of the Chin State, honouring refugees from Myanmar.
OCEAN SERIES COLLECTION
"It's uncanny that we don't recognise beauty in the things closest to us."

— The New York Times Style Magazine
"Helping refugees harness their traditional artisinal talents, MADE51 brings their products to the global market."

— Forbes
"The sunlight-blessed space doesn't advertise itself,  but to all those who seek, they shall find within a wealth of exquisite handicraft sourced from the most remote corners of Malaysia."

— Going Places, Malaysia Airlines
"Earth Heir also has the distinction of being the first Malaysian boutique selling artisanal goods to be certified by WFTO." -

— Tatler
Let customers speak for us