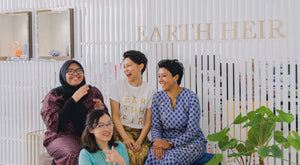 THE HEART AND SOUL BEHIND EARTH HEIR
SASIBAI KIMIS
Founder & Chief Innovation Officer
Sasi founded Earth Heir in 2013 as a social business focusing on luxury craftsmanship and showcasing the skills and traditions of craftspeople. She has a background in investment banking, private equity, non profit/development agencies, consulting, sustainable development, corporate responsibility, and micro-finance, whilst having lived in eight countries over four continents. She is absolutely passionate about issues pertaining to sustainability, nature and traveling. Sasi speaks English, Malay, Tamil and basic Swedish. She is an alumnus of the Wharton School, University of Pennsylvania and Cambridge University.
SHARON KHOO
Head of Business
Sharon lived and worked in the UK and Malaysia, in various industries such as healthcare communications and entertainment events for the past eight years. She has always believed that ethical business matters because it creates lasting positive changes throughout the whole of society rather than just being profit focused.

Since she was young, she has had a passion for training and mentorship, to provide personal development support to those in need around her. Having grown up with a mother who owns a clothing manufacturing business, Sharon has grown up with an interest in the fashion industry. She enjoys a good cup of coffee, travelling the world and considers herself a TV series and film junkie!

Sharon graduated from the University of Hertfordshire with a BA(Hons) in Marketing.
REGINA SHANTINI
Project Coordinator
Regina is a graduate having completed her degree in International Hospitality Management at Sunway University as a Jeffrey Cheah Foundation Scholar. She completed her internships at Hilton, Petaling Jaya and Four Points By Sheraton Puchong. Prior to that, Regina has experience working as a general clerk in a legal firm, Paul Cheah and Associates she also has experience in freelancing as a coder in Ipsos Malaysia.

During her time at university, she was actively involved in student volunteering events and has volunteered for Shark Savers Malaysia and Myanmar Refugee tuition. Regina is a detail-oriented, people person, as well as passionate and enjoys working among under privilege communities. Regina chooses to work at Earth Heir because of her passion for people and her personal values, which are aligned with Earth Heir. Regina enjoys singing and baking during her free time.
WAN AZREEN
Graphic Designer & Operations
Azreen is the youngest member in the team, she is a recent graduate having completed a degree in Computer Science major in Multimedia Computing. She did her internship at RTV Kelantan as a junior editor which equipped her in video editing, writing and studying news scripts. During her time at university, she eagerly studied the intricacy of the programming language as she enjoys creating and building things from scratch and problem solving.

Azreen chose to start her first job at Earth Heir because of her interest and passion in multimedia and graphics and the various opportunities given to her at her role. During her free time, Azreen indulges in K-pop music and cooking.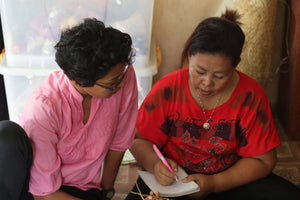 Our story began with a desire to reduce the exploitation of craftspeople and help them benefit from the work of their hands. We partner with master craftspeople to create timeless, contemporary pieces whilst preserving the heritage and tradition of their forebears.

Intent on empowering craftspeople to achieve sustainable livelihoods, we advocate fair trade principles and ethical partnerships. This is Earth Heir® - luxury, style, design and fashion forged in an ethical manner.