OUR VISION, PURPOSE AND IMPACT
OUR VISION
"TO BUILD NATIONS AND GENERATIONS AS HEIRS OF THE EARTH"
OUR MISSION
Celebrating craftsmanship by designing
thoughtfully, engaging in ethical partnerships
and advocating conscious living.
CREATING SUSTAINABLE LIVELIHOODS
Earth Heir® was founded to serve traditional artisans in underserved communities - we support their unique craftsmanship with holistic ethical business operations, including education, collaborative design partnerships, production & supply chain training, market access, financial support, and fair trade commercial practices. Our hope is for artisans to grow to be independent, be upskilled and develop sustainable livelihoods. This way the artisan sector as a whole becomes a means for economic development for communities.
PRESERVING HERITAGE CRAFTSMANSHIP
The techniques and skills involved in creating these art pieces have been developed over many generations by the artisans and their families, using locally sourced materials and unique processes. Earth Heir® works collaboratively with our artisan partners to preserve this craftsmanship for the future.

By combining traditional artisanal skills with contemporary design and product training for artisans, Earth Heir® is a true celebration of Malaysia's varied heritage art forms and unique cultural narratives.
DESIGN LED
It is imperative that all our products are design led. Appropriate design is key to help access markets and create income streams. For every artisan group that we work with, we train the artisans on design & quality, pricing, production processes, to raise the skills of the artisans and the value of artisanal, heritage pieces.
SUPPORTING REFUGEE ARTISANS
Earth Heir® has partnered with the United Nations Refugee Agency via the MADE51 initiative to support displaced refugee artisans in Malaysia and provide dignity and income opportunities with their unique talents.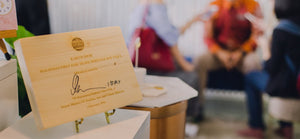 WE ARE FAIR TRADE CERTIFIED
EVERY PURCHASE CREATES RIPPLES OF IMPACT
PRICING TRANSPARENCY
Earth Heir® is proudly fair trade certified with the World Fair Trade Organisation (WFTO), following the 10 Fair Trade Principles. As a social enterprise, we operate a transparently with ethical practices to maximize income and impact among the artisans we serve, while reinvesting the majority of our profits to achieve our mission.

*Image on the left reflects an average breakdown of pricing for our Nelly Collection only.
View Our Products
SOME OF THE IMPACT WE'VE REACHED SO FAR
PARTNER WITH US
Earth Heir® provides advisory/consulting services for organisations seeking to create sustainable impact with the communities. You can also have us speak at your event on our Earth Heir® journey, making a change, ethical fashion and sustainability; or reach out to us about gift customization or retail & wholesale.